Double Uni Knot Learn To Tie Fishing Knots Braid To Mono Fluorocarbon Leader
Double Uni Knots are easy to tie.  It's purpose is to connect braid to mono.  In this video below I have recorded in 4k so the Knot tying process is crystal clear. The Double Uni Knot's primary need is to have a knot that will cast through the fish rod eye.  This slick knot is easy to tie double uni knot braid to a fluorocarbon leader.

Its a simple knot to tie.  The number of twists you need to do will depend on the thickness of the mono and braid so the knot doesn't slip.  For example, if I was tying on 20lb mono. I might need to do 6 or 7 twists because the diameter of the mono is thinner. Opposed to if I was tying this knot on the 60lb leader which may only require 4 or 5 twists.

Fishing Hooks Quality Matters 
Reedy's Circle Hooks are a High Quality Fishing Hook Designed for snapper Fishing Super Sharp and Must Have In your Tackle Box. Ranging From 1/0 to 9/0
Best  Pre Tied Snapper Rig 
Reedy's Ultra Rig's are new  and have Special technology in The Uv Flasher to attract fish, Quality Dominator Circle Hooks rigged on 80lb leader Stock up for snapper season now!! .
Buy Reedy's Ultra Rig Best Snapper Rig
It's beneficial to practice the knot. Before you attempt it out on a boat as you may find it more difficult when you are out on the water.  You might find practicing with a piece of cord as it may be easier until you get better at tying.
Diagrams of the following will be included to assist with tying.
First, you need to lay the 2 pieces against each other and hold at the center giving yourself plenty of room to work with. Make a loop with the mono/fluorocarbon and wrap the end around the braid and back through the lop twisting several times depending on the thickness you are working with (ie. 5 to 6).  Holding the tag end of the fluorocarbon and the opposite end of the line pull both ends to close the loop together forming one end of the knot. Then repeat these steps with looping the braid over the mono and twisting around the same amount of times you did with the other end. Then you need to pull the tag end and the opposite end of the braid together to close the loop. Lubricate both knots with some saliva and by pulling both ends of the lines (mono and braid) bring both knots together.  Make sure you pull them together tight for a stronghold.  You can then cut the tags and tidy up the line.
Diagram Double Uni Knot tying fluorocarbon Leader to Braid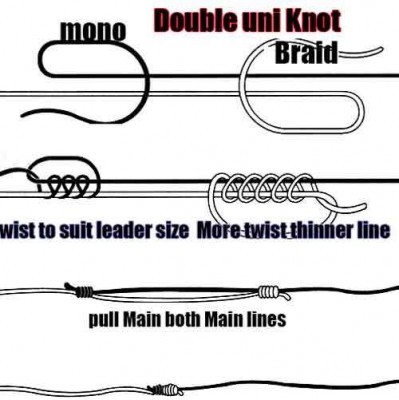 Rig Tying Links
Tie Paternoster Fishing Rig Tying Knot Easy Diagrams & Tutorial Video
Fishing Depth Sounding Snapper On Lowrance Hds Chirp Port Phillip Bay Melbourne Report Video
Sydney Harbor Gps Fishing Marks Locations Offshore Spots Reef's
Fishing Gps Marks Port Phillip Bay Snapper Reef Spots Melbourne Map