Gps Mark
s Port Phillip Bay Fishing Melbourne click the Locations maps and read  fishing tackle tips , there are also Port Phillip Bay gps Marks on the bottom of the page , in the clickable map is focused on snapper & this upcoming season if your on you Mobile Phone scroll down to copy gps marks.
Gps Marks MAP Below.
SHARE MAP EMMBED ON YOUR SITE CODE <iframe src="https://www.google.com/maps/d/u/0/embed?mid=1mH7hOuYqVnEZCwwUklYbfnvufnE" width="380″ height="214″></iframe>
Use This New Map Click are read info 2017 This Map is for the upcoming Season  For New Anglers Guide Tips. 
When using google Maps to find a GPS Click & Zoom  you Find Information relating to Each GPS mark . There is a Wide Range of marks from Text Gps Marks Below.
2019 Snapper Ultra Rigs The Flasher Rig Killer
  Port Phillip Bay Snapper Melbourne Spots Location Depth Chart
Here are some GPS markers if some is interested, good luck and safe fishing.
Whiting S3816003 E14440409
S3816141 E14440846
S3816223 E14440677
S3817710 E14440802
S3814855 E14443046
S3817416 E14440963
S3817804 E14440277
S3816823 E14440053 King flood tide/slack water
S3817503 E14438461 Kings slack water
S3817790 E14439942
S3817260 E14438641 snap slackwater/ start flood
S3818245 E14442369
S3816566 E14452246
S3818540 E14446161 snapper
S3818637 E14445766
S3818594 E14445969
Heads area best slackwater/ start flood snap/kings
S3819631 E14435992
S3819553 E14436070
S3819896 E14437360
S3819340 E14437010
S3819240 E14437001
S3819337 E14436969
S3819349 E14437228
S3819319 E14437118
S3819296E14437160
Offshore Barwon heads areas
Snap kings nanagai
S3820013 E14429071
S3820043 E14429008
S3820333 E14429641
S3820155 E14428983
S3820151 E14428484
S3819019 E14433930
S3818945 E14433953
S3818901 E14433772
S3818462 E14434328
S3819653 E14428966
S3819082 E14432157
S3819937 E14428671
S3819911 E14429370
S3818396 E14428695
S3819097 E14428881
S3819653 E14428966
S3819780 E14429180
S3819789 E14429260
S3818824 E14431549
S3818901  E14433772
S3819992  E14430595
S3819999  E14430602
S3820003 E14430495
S3820219 E14430412
S3820693 E14426571
Portsea offshore
S3822155
E14439712
Flatties offshore Portsea
S3821755
E14441796
S3824221
E14440506
S3823278
E14443715
Sweep down twds cape Schack
S3821665
E14444290
S3821665
E14444287
Corio Bay Snapper
Grammer winter snapper.s3804450e14424210
Shell s3805100e12423900
Oyster beds
s3805653e14423814
Silos
3807017 14422714
3806800 14423400
Spoils
3808114 14423432
3807287 14422961
Western bch
3808059 14421595
Pt wilson
3806200 14430620
Arthur
3805000 14433000
Avalon
3806000 14424456
Nine foot
3805884 14427486
Also great spot just on outside of a sand bar called corvette hole great for gummies snapper.
Also Altoa pier in summer good for small kings
Portarlington
3804890 14437448
Stlenards 20mtr
3808200 14445340
St lenards to governer reef 2-8mtrs whit squid
Sth of st lenards to swan bay 3-5mtrs great squid. Stairs to beach good area.
St len after big blow
3810177 14443608
5-8mtrs
Symonds channel
3815408 14445829
Snap gummy best either side of slack water
Also follow symonds chan nne and near end should be a marker great area for snapper gummies bronzie
Pinnacle
3817450 14447542
Snap whit salmon flatty gummy bronzies
Hole
3816566 14452246
Rosebud
3818245 14442369
Whiting
3818152 14439445
Heads kings slack water to flood
3816823 14440053
3817503 14438461
Snapper slack start of flood
3817260 14438641
Fd mark
3817804 14440277
No names
3818540 14446161
3818637 14445766
3818594 14445969
3816003 14440409
3816141 14440846
3816223 14440677
3817710 14440802
3814855 14443046
Heads area slack water
3819631 14435992
3819553 14436070
3819337 14436969
3819240 14437001
3819349 14437228
3819896 14437360
3819319 14437118
3819296 14437160
3819340 14437010
3817790 14439942
Text Format For Input to Sounder
Carrum 2 Wide  – 38.03.08s 145.04.23e
Patterson River Entrance  -38.04.27s145.07.02e  Good Mark to Enter to get home at night .
Carrum No1  38.04.30s 145.20.32e
Barnys 1 Snapper 38.05.87s 145.02.24e
Outer Seaford  38.06.19s 145.02.53e
Inner Seaford 38.06.25s 145.06.17e   ( Early Season Reds )
Carrum Reef Snapper 38.06.38s 145.00.46e
Big Reds 2 Snapper 38.07.62s 145.03.93e
Frankston Ramp 38.08.43s 145.06.41e
Shellbank mud 38.08.08s 145.02.21e
Red Road 38.09.16s 145.02.17e   ( Early & Late Season  October + December + April + May)
Mornington Jetty 38.12.44s 145.01.56e   After Big Blow October Just after Full Moon + Big Blog Is King
Sth Channel Wreck 2 38.17.25s 144.40.23e
Point Nepean 38.18.08s 144.39.23e
Portsea Hole 38.18.37s 144.42.41e
Snapper Stick Reef Depth 6-8m 37.53.10s 144.51.30e
Whiting Rig Pre Made Paternoster Flasher Rig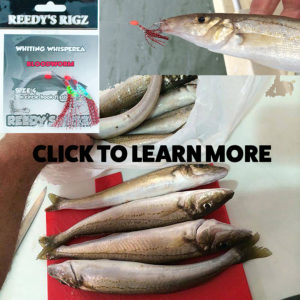 Snapper Sounding From Hds Lowrance Fish Finder .
Rigging For Port Phillip Bay Snapper Hand Tie Snell Rigs Video  Guide & Tips .
How to tie snapper rigs , This rig is Most Popular in Port phillip bay . Below is short video what i demonstrate how to tie the Twin Hook rig , My Spread of rod will consist of 3 snell rigs & one  flasher rig . by reedy's rigz .  I find best bait for snapper are Full Pilchards & fresh squid . on the snelled rig & chunks of pilly on the paternoster type rig.
Update Gps Charts – How To
Port Phillip Bay Snapper Gps Marks Fishing Melbourne
These gps Marks are just common Marks which i do fish & they are widely used by other fisho's  they are more of a reference Point to start sounding For snapper or Anchoring  and waiting  Periods & hope the Reds Come through , Me i Like to sound up snapper & over the past years with the Number's down you should get to know your sounder . but the marks are good if your a new  to fishing . scroll to the bottom of the page to find general Gps marks and other tips.
Melbourne Port Phillip Bay Snapper Gps marks Fishing locations spots .
Gps Marks Port phillip Bay .
Description     Latitude S   Longitude E
Station Pier       37.50.9s      144.55.7    e
St Kilda Pier.   37.51.7  s    144.57.5     e
St Kilda Marina    37.52.4 s     144.58.3     e
Williamstown        37 52.518  s  144 54.151  e Snapper, Whiting, Garfish,Mullet, Leather jacket. Sand reef bottom.
Altona Boat Ramp. Whiting,        37 52.632    144 55.512
Pinky Snapper, Flathead Sandy  Grass bed bottom  Reefs.
Water depth 3.5 – 4.5m.
Snapper  Ridge     37 53.0s      144 51.48  e
The Stick Reef, Depth 6 – 8m. Altona.       37.53.101    144.51.298
Snapper. Sandy shelly bottom      37 53.16  s   144 51.2      e
adjacent to reef.
Port Phillip Bay Depth Charts Maps
5 snapper snatchers 19.95 click here to buy now

Target Species: Bream, Bass, Flathead, Whiting, Snapper, Trevally, Flounder, Jewfish, King fish, Hairtail, Golden Perch, Trout, Red fin, Bonito, Salmon, Tailor, Bonito,
Small Tuna, Yellow tail, Mackerel, Squid and saltwater and freshwater
Float rig garfish mullet fishing rig pencil float rigs.
float rigs made for garfish mullet and small surface feeding fish . bulk fishing rig packets topwater fish save money shop with snapper
Fishing spots in Melbourne and Victoria. Click the below link for fishing spots in Melbourne and GPS marks via a website and text format. For land based fishing spots options are available via the google map above, please use map on a laptop or from a desktop computer. Scroll and zoom to see fishing spots in your region or suburb. Pin points display GPS marks or tips and tricks, tide changes, and when/what to fish for. If you would like us to display your catch in a fishing spot you can send in your picture and information to snapperfishingtackle@gmail.com .
Melbourne snapper gps mark port phillip bay fishing spots locations
Brighton Pier         37.54.3      144.58.6    
Werribe  Whiting   . Sand weed bottom.    37.56.669s   144.45.760e
Water depth 5 – 6m.
Whiting. Sand weed bottom.      37.57.669s    144.45.908e
P2 Altona     Snapper. Mu d bottom 37 58'19.5s   144 41'11.9e
Water depth 15m.
Ricketts Point -Snapper, Flathead, Whiting.  37.59.52 s    145.01.39 e
Water depth 4m. Rocky bottom.
Daddys Spot  Whiting. Water depth 9m. Sandy bottom.                   37.59.772 s   144.45.573  e
Rickets 1     Snapper,rock cod    37.59.86     145.01.69 Water depth 8m.  Reef bottom.
Zeds Spot Snapper, Garfish, Flathead.       38 00 25s     144 45 15e
Sandy bottom. Water depth 18meters.
Mordialloc Pier   38.00.7      145.04.9    
Kirk's Point Boat Ramp     3801.66s     144 33.90e
Beacon Point Long Reef Snapper, Gummy Shark, Whiting.    38.01.800e    144.35.490s   Reef, weed sand bottom.
Long Reef     38 01.83 s    144 35.65e
Mordialloc      Snapper, Water depth 18m.         38 02 17     145 05 58
Reef bottom.   Snapper, Shark.                  
Rye Boat Ramp   Boat Ramp. Flathead.      38.02.232s    144.49.197e
Water depth 1.2m. Sandy bottom.
Gaso Snapper. Mud bottom. Water depth  38.02.493s   144.58.942e 18m.
Flathead. Water depth 10m.        38.03.00     145.02.30
Carrum No2                                               38.03.08     145.04.23
Patterson River                                          38.04.27     145.07.02
Carrum No1                                               38.04.30     145.20.32
38.04.31     145.20.23
Patterson River Entrance  Navigation                     38-04.496    145-06.949
38.04.561    145.06.987
Patterson River        Navigation.                       38.04.5      145.07.1      AGD66
Carrum Artificial      Snapper.                          38.04.635    145.02.160
Carrum Outer           Artifical reef. Snapper. Water    38.04.800    145.02.100   WGS84
depth 18m.
Snapper, Flathead. Water depth    38.04.800    145.02.096
18m.
Carrum Snapper         Snapper. Reef bottom. Water       38.04.900    145.02.000
depth 18m.
Glenns Spot            Snapper. Water depth 20m.         38.05.400    144.58.199
Mud & shell bottom.
Mikes      Snapper in season. Water depth    38.05.870    145.02.241
18m.
Aircraft    Snapper. 2 miles off No.1 buoy  38-05-980    145-00-692
Carrum.
Aeroplane Mark         Snapper. Rock & reef bottom.      38.06.004    145.00.714   WGS84
Water depth 15 – 19m.
19 Meter Mark          Snapper. Water depth 19m.         38 06.116    145 00.653
Seaford                Snapper. Reef. Water depth 16m.   38.06.15     145.02.55
Outer Seaford          Reef. Snapper. Water depth 16m.   38.06.19     145.02.53
Inner Seaford                                            38.06.25     145.06.17
18 Meter Reef          Carrum. Snapper.                  38 06 38     145 00 48     WGS84
Water depth 18m.                  38 06 38     145 00 46     AUS86
Carrum Reef            Snapper. Water depth 18m.         38.06.384    145.00.464
Patterson Lakes        Snapper. Water depth 18m.         38 06 73     145 04 12
Outer Seaford          Snapper. Reef bottom.             38 06 738    145 04 120
Mile Bridge            Seaford. Snapper.                 38 06 821    145 06 658
Reef bottom.
Cod Hole               Snapper. Water depth 13m.         38.07.000    145.35.200
Mud bottom.
Seaford 1              Snapper. Water depth 11 – 13m.    38.07.175    145.05.605    WGS84
Outer Reef Carrum      Snapper, Flathead.                38 07.319    145 05.780
Water depth 20m. Reef bottom.
Graemes 2              Snapper in season                 38-07.620    145-03.933
Frankston Reef         Snapper. Reef bottom.             38.07.939    145.05.925
Shellbank              Snapper.                          38.08.08     145.02.21     WGS84
Frankston Ramp                                           38.08.43     145.06.41
Frankston Pier         Navigation.                       38.08.85     145.06.7      AGD66
Red Road                                                 38.09.16     145.02.17
Hospital Mark          Snapper. Water depth 18m.         38.10.100    145.02.500    WGS84
Ansett                 Snapper. Water depth 17m.         38.10.301    145.01.760
Mark's Spot            Mornington. Snapper, Garfish,     38 10.970    144 57.540
Barracouta, Flathead.
Water depth 21m. Mud bottom.
Mornington             Snapper, Flathead.                38.11.459    145.00.843
Water depth 21m. Sand & weed
bottom.
Mornington Jetty                                         38.12.44     145.01.56
Flathead.                         38.12.44     145.01.18    WGS84
Navigation.                       38.12.8      145.01.9     AGD66
Mount Martha Channel   Snapper, Whiting.                 38.16.500    144.52.350   WGS84
Sth Chnl Wreck 2                                         38.17.25     144.40.23
MtMartha Artificial    Artificial reef. Snapper.         38.17.337    144.58.192   WGS84
Water depth 18m. Reef & rock
bottom.
Sth Channel Wreck 1     38.17.40s     144.40.22e
Siongs Mark            Safety Beach. Snapper, Flathead.  38.17.467    144.58.142
Sand bottom.
Portsea 3              Kingfish. Rocky bottom. Water     38.17.53     144.40.22    WGS84
depth 14 – 16m.
Inner Rip              Plot a coarse between Inner       38.17.32     144.38.17
Point Nepean                                             38.18.08     144.39.23
Outer Rip              & Outer Rip marks for safe        38.18.17     144.37.26
passage through the heads.
Portsea Hole           Snapper.                          38.18.37     144.42.41
Sorrento Sailing Club  Whiting. Weed & sand bottom.      38 20 208    144 45 398 Melbourne Port Phillip Bay Snapper Gps marks Fishing spots