Whiting  Rig up for Great whiting fishing   in port Phillip Bay western port Bait Rigs
Whiting Which Rig Should I use to catch a nice king george Whiting ? Well there are many different whiting rigs around i like to fish  a mixture of setups from a paternoster dropper rig to a flasher rig and a running sinker rig , it really depends where your fishing and the type of current and bottom you are up against . Port phillip bay bottom is  majority  sandy  with not many reefs  just about every where you fish  and there is no current  in the bay proper , But if your fishing up the south end its full of fast moving water . so i have moved to using flasher rigs because i tend to fish in alot of different fishing spots from western port to port phillip .
Try These  5 Pack of Whiting flasher rigs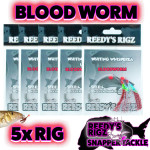 whiting Rigs Flasher rigs Awesome in Surf fishing
A new Type of fishing rig called a whiting Whisper is a type of fishing rig that can be fished a lot like a flasher rig or snapper snatcher but its designed to target Whiting and smaller fish like Black Bream Flathead and also the bread and butter fish of Australian Rivers and Estuaries like mullet, bay trout and redfin and trout. The fishing rig is a Saltwater and Freshwater rig that has inbuilt Lures that is like a fly attached to each circle hook . The fishing rig is based around a paternoster or dropper rig and the lures are built into the hooks which give you a double chance of catching fish because you bait the rig as well (and it acts like a fly lure in this case a "Live Prawn" or "Live Shrimp"). The rig is tied on 20lb leader with a swivel on one end and you place your sinker on the other end then tie it to your main fishing line , add bait and you are fishing! I have fished this rig for whiting and other fish over last winter & summer and had some excellent results .
Surf rigs for whiting and surf fishing port phillip bay  .
Where to fish A Whiting Rig & what fish can I catch ?
These whiting rigs are great to use from your local pier or jetty and it can be fished from your boat or from the rocks They come into their own in the surf as it is like having 2 surf poppers on steroids when baited correctly The salmon & tailor really go to town on these Whispera's.
The fish i have caught on these Magic rigs are Flathead ,salmon, Black Bream,Yellow fin Bream , Mullet ,mackerel ,Australian salmon , Tailor ,Trout and red fin just to name a few .
The lure or fly seems to give you that extra edge which would go along way if the bite is slow and might just give you that little extra bit to get the fish to come on into a hot bite .
The best baits are simple, less is more and a small strip bait works a treat, pin it through the hooks once up one end of your bait and away you go .
Just about everything in the ocean eats prawns its truly a well thought out rig .
The rig has size #4 hooks for whiting and 1/0 for the surf rig . The fishing rig was created by Reedys Rigz and distributed By snapper Fishing Tackle here on ebay or at your look tackle store.
These rigs Below Work a Treat  You can find out more here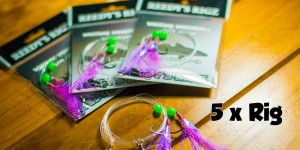 How to fish the Whispera Fly rig is it Like a snatcher ?
The whiting rig is a lot like a snapper snatcher but it is on a smaller scale and to be honest it fishes really well with the new Circle hooks that have been improved to suit a Whiting jaw . The live prawn in saltwater looks the part with the lumo infused into the fly . With winter here its a great time to fish the rig in fresh water for fresh water trout and red fin really take to this rig , I havent done as much fishing with it in freshwater but dont be afraid to try new things you might just surprise yourself
Fishing Rig Spec & what 's included
5x whiting whispera fishing rigs.
rigging on a paternoster rig Live prawn lure (saltwater ) with in the circles.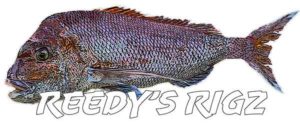 Live Shrimp (fresh water ) with in the circles.
used like a snapper snatcher.
The Whiting Whisperea
We recommend For Whiting
Hooks Size #4
and in the Surf for slightly Bigger Fish Like Australian Salmon choose
1/0 circle.
These new Improved Hooks are Design around a whiting jaw
Free shipping Rig Nick name "Ting Magnet "
Whiting Fishing S.a King george fishing rigs and rigging