Snapper Fishing Reedy's Rigz Tied Rigs Bait Angler Tackle.
Reedy's Rigz Fishing Red Snapper whiting and a Range of Fish. Tackle a Big Red utilizing Paternoster Rigs.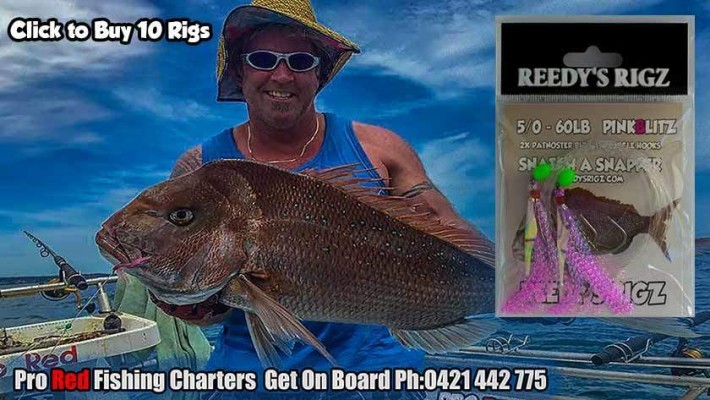 Snapper Fishing Reedy's Rigz Best Baits Surf Reef Rig.
Snapper Fishing  Reedy's Snapper snatcher Rig. Video catching reds from around Australia Waters. Year going to be a Cracking Season grab Reedy's Rigz for your tackle Box today.  Tied Tackle Perfect Snapper Rigs.
Paternoster with Circle hooks that provide excellent Hook up rate. The Best Baits Recommend for Snapper Snatcher are a range of Fresh Bait and Frozen.
Squid strips and pilchard chunk's fish very well. Simply drop the rig down to the bottom when fishing on a boat. The Flasher rigs will work in the moving current.
This attracting fish like a lure with bait. When surf fishing from the shore use a big cast to get out to the breakers or white water.  Australian Salmon have Know to hit the Lure flasher with out bait.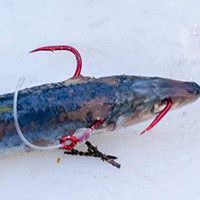 When fishing land based from a rock wall.
A big cast out is required . if located on a Pier or jetty. Then I Prefer dropping the rig down near the Pillions.
Most fish will be Swimming around these area's. Especially if your targeting small fish like mullet whiting bream. Offshore Reef fishing is a breeze the paternoster rig will eliminate Snag's as the hooks sit just of the bottom. Tied on various Fluorocarbon Leader strength's. ideal For a Range of Fish that you may target .
Colors of snapper snatcher fishing rig.
The Blue Rig super pilchard Rigged for deep Blue water. Offshore Bright Sunny conditions.
The Pink Rig Lumo infused crystal Optimized Shallow water ,Green water ,Estuaries ,Surf , shore, Night , Murky water .
The Yellow Rig Infused crystal Optimized Sand Shallow Bays Shallow water Green water Estuaries.
This Rig fishes great all over the world.  Including Mexico, U.S, Australia,New Zealand & Various Regions around the Planet .
Rig tying Ty a Fishing Rig For Fast moving Currents